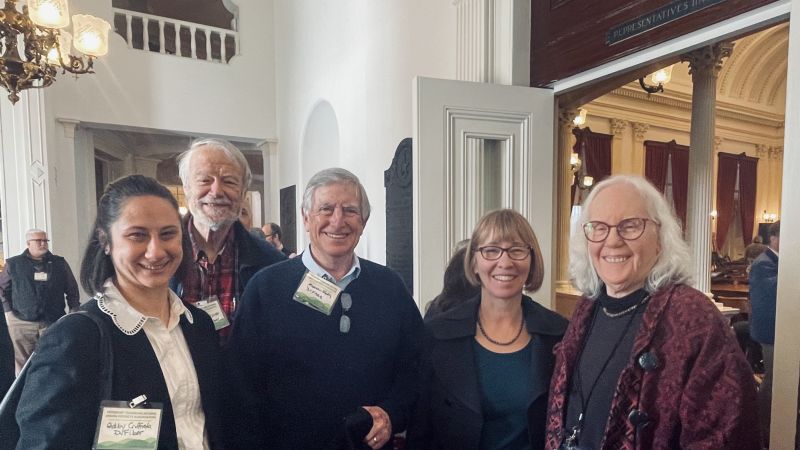 We're halfway through the 2023 legislative session! Our work officially began on January 4, when we returned for the first in-person opening week ceremonies in a few years. We've passed some significant legislation in these first two months, and this report provides highlights. I continue to focus my priorities on supporting families and small businesses; addressing the complex and interconnected challenges of housing, childcare and the workforce; investing in strategies to combat climate change and the continued investment in the build-out of broadband and infrastructure for our rural communities. It's an honor to serve as your state representative. Please reach out anytime with ideas, questions, and concerns.
BUILDING A BALANCED BUDGET FOR FY24
The House is working on the next Fiscal Year (FY) 2024 budget, which covers state government and its community partner organizations from July 1, 2023 to June 30, 2024. The committee expects to present its proposed budget to the full House for discussion later in March. We are seeing substantial revenue growth this year, largely due to the impact of federal pandemic stimulus and recovery dollars. Our challenge is to make strategic use of one-time funds to meet state priorities. Those priorities include leveraging federal funds to support improvements in roads, bridges and other infrastructure needs under Congress' Infrastructure Investment and Jobs Act (passed last year). Other targeted statewide priorities are those that will deliver long-term dividends for Vermonters including investments in housing, broadband expansion, workforce training, clean energy and childcare. As is our Vermont tradition, it will be a balanced budget, even though Vermont does not have a statutory requirement to do so.
UNIVERSAL SCHOOL MEALS
During the pandemic, the federal government provided free school meals to all K-12 students. Last session, the legislature provided funding to continue offering universal school meals in Vermont for the current school year. The legislature must now determine the best path forward.
Universal school meals offer many benefits, including more predictability for schools in meal planning and purchasing, less stigma surrounding school meals, and increased opportunities for partnerships with local farms, leading to the re-entry of dollars into Vermont's economy. Several Vermont schools have applauded how the program has positively impacted health and behavioral outcomes and expanded nutrition and food education. If the state chooses to continue offering universal school meals, there will be new strategies in 2023 to access federal dollars in paying for the program—both through increased student participation and a new Medicaid eligibility criterion that automatically qualifies schools to receive more federal funds. To learn more, see H.165.
ADDRESSING CLIMATE CHANGE IN OUR TRANSPORTATION SECTOR
The issue of climate change, and what we can do to reduce greenhouse gas emissions, is one of the most pressing challenges facing us today. Over 40% of Vermont's carbon emissions come from our transportation sector. This year's transportation bill will continue to make significant investments in policies to help Vermonters transition to more fuel-efficient vehicles, including all-electric vehicles. Additionally, the T-Bill invests in public transportation and infrastructure that supports more walking, biking, and public transit options throughout the state. As recommended in Vermont's Climate Action Plan, the primary goal is to electrify our transportation system to meet our mandated climate goals.
Using $21 million available over 5 years from the federal Infrastructure Investments and Jobs Act (IIJA), the T-Bill will continue significant investments in electric vehicles (EVs) and plug-in hybrids through purchase incentives. These incentives are income sensitive to ensure all Vermonters can afford to buy new or used low-or zero-emission vehicles. Additionally, the T-bill uses federal funding to expand our EV charging infrastructure to ensure that everyone, including those who rent or live in multi-family units, has a place to plug in their car.
BUILDING VERMONT'S WORKFORCE
Workforce development continues to be a high priority for the legislature. With historic low unemployment in Vermont (2.6% as of December 2022), there is a desperate need for more trained, skilled workers in every sector, but especially those essential sectors including healthcare (nursing), construction and education (teachers). Developing and improving incentives and workforce training pipelines for these essential workers will prove critical. So far this year, the House Commerce Committee made revisions to the nurse preceptor grants program through the FY23 Budget Adjustment Act. Members of House Commerce are also serving on a cross-committee group to expand teacher retention and hiring incentives.
CHILD CARE AND EARLY CHILDHOOD EDUCATION
The lack of affordable, high-quality early childhood education profoundly impacts Vermont and its economy. As introduced, H. 208, an act relating to child care and early childhood education, develops a blueprint for a significant investment in our children, families, and communities. The bill would significantly increase state-funded financial assistance for children in child care; expand the current funding for part-time pre-K to a full-time program for all 4-year-olds in Vermont; increase compensation for early childhood educators and financial support for community and home-based child care programs by reimbursing centers for enrollment; and elevate and streamline state-level oversight of early childhood education.
The proposed legislation has support from over 90 representatives across party lines and builds on the current system to ensure that all partners, families, schools, child care providers, and early educators, have the resources and support they need to best care for our youngest Vermonters.
In developing this bill, legislators considered recommendations presented in the recently released Child Care and Early Childhood Education Systems Analysis and the RAND Corporation's Vermont Early Care and Education and Financing Study commissioned by Act 45 of 2021. Work on this topic is well underway in the Senate, and the House Human Services Committee is looking forward to taking up this critical legislation later in March. We will hear testimony from parents, child care providers, schools, employers, early educators, state agencies, and essential stakeholders.
VERMONT HOUSING IMPROVEMENT PROGRAM
The 2020 Re-Housing Recovery Program to rehab vacant and blighted apartments was originally envisioned as a one-time-budget program funded through the CARES Act. Its success in bringing 240 units back onto the low-income rental market in one year exceeded expectations, and as a result the program has become a more stable and expansive feature of Vermont's housing solutions portfolio.
The Vermont Housing Improvement Program (VHIP) offers grants of up to $50,000 (depending on the size of the unit) that allow property owners to invest 20% of their own money to make necessary repairs and upgrades to vacant apartments to return them to the rental housing market. By employing the expertise of housing services providers, units are then reserved for low-income renters or those exiting homelessness at a rate below fair market rental rates (or at the rate of a housing voucher) for a period of five years.
After the success of VHIP became clear, another feature was added: money for the addition of secondary units. These can be detached accessory dwelling units (ADUs) or attached apartment units added to previously existing rentals. In each of these circumstances, the dwellings must be ancillary; completed units may be rented to anyone qualifying for the lowered rental rates. More innovations will likely be added to the VHIP program in the future.
EDUCATION FUNDING AND PROPERTY APPRAISALS
Vermonters all know how much the real estate market has fluctuated in recent years — it's fair to say the rise in property values has been historic. The Committee on Ways & Means has spent the first few months of this legislative session looking at a wide range of ways to bring this system into alignment. The committee heard testimony on innovative solutions including: moving away from funding education with property taxes, and moving to a consistent statewide system for property appraisals. The intent of a more consistent system is to avoid large changes in values that catch property owners by surprise, and to relieve pressure on municipalities to manage appraisals with limited resources. The committee is also looking at ways to recategorize non-homestead property values to get a better sense of how these properties are used. Currently the non-homestead property category includes everything from second homes to businesses to industrial use.
BOTTLE BILL 2.0
Updating and expanding Vermont's bottle bill — first enacted in 1972 — will help reduce landfill waste, litter, and greenhouse gas emissions by increasing the amount and quality of plastic, aluminum and glass recycling. Although Vermont has a high recycling rate thanks to the universal recycling law, returnable bottles and cans dropped off at redemption centers around the state produce more marketable and reusable materials than what gets tossed into our commingled recycling bins. As the number and variety of beverages has exploded over the years, H.158 proposes a needed expansion of the decades-old deposit system to cover most beverages, including plastic water bottles and glass wine bottles. To fund more conveniently located redemption centers, provide fair compensation to redemption center owners, and keep an increasing number of bottles and cans out of the landfill each year, the bill requires that beverage manufacturers and distributors collaborate in a stewardship program overseen by the Agency of Natural Resources that will address the limits of the current system.