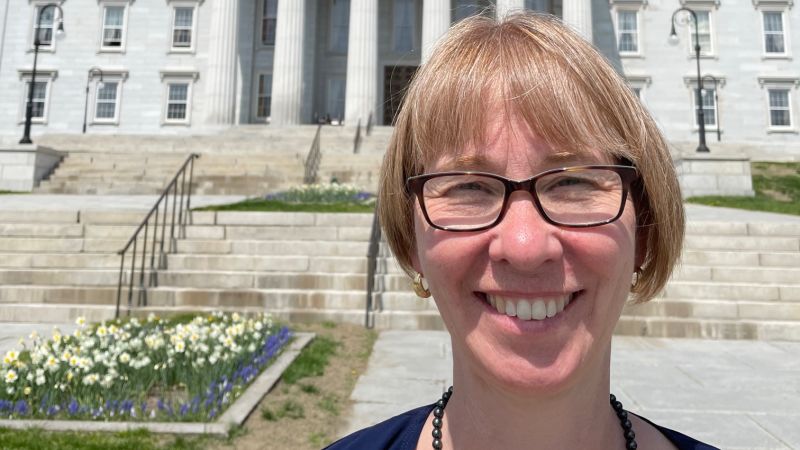 Thank you for staying in touch over the past two years by contributing your ideas and sharing your stories and your concerns. The 2021/2022 legislative session will go down in the history books as the "COVID Biennium." This pandemic has continued to reveal the gaps and inequities in our system, has tested our institutions and forced us to think creatively. In Vermont, we've taken bold action to meet our challenges together and I'm proud of our state budget and the collaborative work lawmakers put in over the last two years.
As your State Representative I carried your priorities with me as I worked diligently to ensure that the millions of dollars coming into the state were put to immediate and effective use in response to the crisis. I ran for office in 2018 because I care deeply about the future of our small rural communities. The last two years have been extremely challenging, but also filled with many bright spots. It has been an honor to serve Guilford and Vernon and to bring my spirit of collaboration, creative thinking and values to this work.
During the 2022 session I focused my energy on supporting families and small businesses who have been impacted by the pandemic; addressing the complex and interconnected challenges of housing, child care and the workforce; investing in strategies to combat climate change; supporting our students, teachers and schools; and investing in the build-out of broadband and infrastructure for our rural communities. Over the last two years I championed reproductive rights, climate action and investments in rural broadband; stood up for racial justice and worked for more just and equitable policies in the realms of criminal justice, policing, education and environmental justice. I also co-sponsored legislation to address climate change, increase investments in affordable child care and housing, modernize our transportation sector and successfully advocated for resources for our rural communities which included $15.9 million for capital investments in our libraries to improve community access to highspeed internet; and $9 million for the creative sector's economic recovery. And there's a lot more to do. I believe we must collectively push forward to make essential changes so Vermont is a state where all of us can thrive, not just a select few.
This newsletter is longer than usual as it includes highlights from the 2022 session. You can also visit my legislative page to see the bills I co-sponsored and how I voted on all the bills that came to the House floor.
While the session has ended, I look forward to meeting and talking with neighbors. Please know that I am available to answer questions, help you connect with resources, and listen to your priorities.
It has truly been an honor to represent the people of Guilford and Vernon in the Vermont House of Representatives, and I hope to earn your vote in this next election and continue to be a strong voice for Guilford and Vernon in the Vermont House.
Stay in touch and stay safe!
FINANCES
A Balanced and Transformative State Budget
The FY2023 state budget (H.740) totals $8.3 billion, a 5 percent increase over the current fiscal year. The budget honors the commitment the legislature made at the beginning of the pandemic: to support Vermonters, their families, and their communities across all 14 counties, and to leave no one behind in a strong statewide recovery.
That commitment includes investing $453.7 million in federal COVID relief in five broad areas: Economy, Workforce, and Communities; Housing; Broadband Connectivity; Climate Action; and Clean Water. Those investments, added to FY2022 investments, complete the allocations of the $1.2 billion received through the federal American Rescue Plan Act.
The budget includes a long-overdue rate increase of 8 percent to community mental health providers, designated agencies, specialized service agencies, and home health care providers. It provides millions to support substance abuse disorder prevention and recovery. It includes increased funds for Adult Day programs, Vermont Legal Aid and the Vermont Health Care Advocate.
We're investing $96 million in broadband projects and $137.8 million in community, workforce and economic development. The University of Vermont base budget is increased by $10 million, the first increase in 14 years. The Vermont State College System also has a base increase of $10 million, plus $14.9 million to serve as a "bridge" in their ongoing transition to fiscal and operational stability. Coverage is expanded by $4.9 million for working families within the Child Care Financial Assistance Program.
This year's investments in housing programs, including the "missing middle" and manufactured housing, total $90 million. Transformational climate and water initiatives include $80 million for weatherization and $45 million for municipal energy resilience grants. There is also $8 million for advanced metering infrastructure and over $60 million for additional electrification initiatives.
As always, it is a balanced budget. To see all budget documents, click here.
Setting the Property Tax Rate H.737, the annual "yield bill," fully funds Vermont's PreK–12 education system and notably reduces education property taxes by $35 million.
Because of an unprecedented $95.7 million surplus in our Education Fund, we were able to return $20 million to taxpayers while also funding universal school meals for 2022–2023 ($29 million), PCB testing and remediation in our schools ($22 million), and new investments in our public pension system. We're also creating a new program through our career and technical education centers that will teach students the construction trades by building and rehabbing housing and other community projects ($15 million). Despite strong statewide growth in education spending, the yield bill projects an average homestead tax rate of $1.385, significantly lower than last year's rate.
Stabilizing Emergency Dispatch Vermont's emergency dispatch system has long needed an overhaul. The FY2023 budget contains a provision designed to stabilize a dispatch system on which Vermonters can rely. The system will include two Public Safety Answer Points serving only state-level entities, plus four or five new regional dispatch centers. There are already four regional dispatch centers in St. Albans, Hyde Park, Hartford and Shelburne, and there is interest to create one in Brattleboro to serve Southern Vermont.
The budget contains language to start this transformation, plus $11 million for the early stages of implementation. After decades of study, this is the first time funds have been allocated toward this regional concept.
ADDRESSING THE HOUSING CRISIS + REFORMING ACT 250
Expanding Safe and Affordable Housing
Over the past three years, the General Assembly has committed about $375 million to housing — roughly half from federal COVID relief funds and half from the General Fund and property transfer tax. These appropriations have been used to enhance shelter capacity and supportive services for those who are homeless, to build more than 1,000 units of housing that will be affordable to low- and middle-income families, to repair rental properties that are currently off-line because they are not up to code, and to provide incentives to develop Accessory Dwelling Unit and down payment grants for first-generation homebuyers.
Given Vermont's critical housing needs, this year bolstering our housing stock was once again a top priority. Through federal COVID relief funds, over $42 million was earmarked in S.210 and S. 226 to help Vermont renters and homeowners. With this funding, we were able to:
● Dedicate $20 million toward forgivable loans to property owners to bring rental properties not up to code back online, plus incentivize the construction of new Accessory Dwelling Units to expand Vermont's rental housing stock.
● Direct $22 million to subsidize new construction to lower costs for middle-income homebuyers, plus $1 million to the Vermont Housing Finance Agency (VHFA) for down payment grants for first-generation homebuyers. Repair and improvement grants will also be available for manufactured homes.
● Reform zoning laws, expand tax credits, and create pilot projects to encourage denser development and more vibrant town centers.
● Create an Advisory Land Access Board, composed of representatives from groups that have faced historic discrimination in land and home ownership. The new board will work with the Vermont Housing and Conservation Board and its partners to reduce current disparities as a result of that discrimination.
● Extend additional protections from discrimination and harassment for renters and homebuyers.
● Create a statewide contractor registry to protect against consumer fraud in residential construction projects with a value of over $10,000.
● Use federal relief money to increase the capacity of the Department of Fire Safety to conduct rental inspections.
Overall, these investments — which, when combined with mid-year budget adjustments dedicated to emergency shelter and low-income housing, total over $90 million — send a clear message to Vermonters that we're doing everything we can, and teaming up with whomever we can, to provide more safe, healthy and affordable housing as soon as we can. We've advanced funding and policy that will make a dent in our critical housing needs, while establishing pilot programs that could provide a template for future investment on a state and federal level.
Act 250 Reform This year the Vermont legislature passed S.234, an act that improves Act 250 governance and makes it easier to build housing in Vermont's designated Downtowns and Neighborhood Development Areas (NDAs).
Vermont has a serious housing shortage. To address this crisis — to support our residents, our economy and our communities — we must pursue both short- and long-term solutions. S.234 begins to loosen Act 250 jurisdiction in communities that have adopted strong local mechanisms to support the construction of well-located housing, while looking more closely at resources — like unfragmented forest blocks — that are regional or statewide in nature. The bill gives small, rural towns the same access to housing programs and benefits that larger communities have enjoyed for years, while paving the way for more housing and mixed-use development in all NDAs.
S.234 also makes Act 250 more functional by replacing the Natural Resources Board with a professional five-member Environmental Review Board. This board would hear appeals, rather than the current practice of having appeals heard by the court system. This new board would build up expertise and, in turn, provide guidance to the entire system.
As of mid-May, Governor Scott was expected to veto this legisaltion. While its housing provisions made it across the finish line in another bill (S.266), we will have to tackle the important topic of Act 250 governance reform in 2023.
STRENGTHENING OUR RURAL ECONOMY
Investing in Workforce and Economic Development
S.11 is a significant workforce and economic development bill that addresses the negative economic impacts of COVID-19 on our employers, workers and families and establishes opportunities to grow Vermont's economy for the future.
The bill creates or enhances programs to increase workforce participation, and to reinforce and sustain workers in nursing, mental health care, child care and the trades. It includes scholarships, forgivable loans, education, training and internship programs.
S.11 helps Vermonters by providing economic development programs to support businesses and municipalities, sick leave related to COVID-19, tax credits, and assisting specific sectors, including the creative economy.
In total, $113.5 million is appropriated using ARPA, General and Education Funds to achieve these goals. A few highlights include:
Welcoming New Vermonters and Expanding Labor Force ● $5,000 in forgivable loans to recent Vermont college and university graduates committed to work for two years in Vermont ($2.5 million) ● Relocated and remote worker grant program ($3.09 million) ● Grants for refugees and new Americans ($550,000) ● Regional workforce expansion system ($1.5 million)
Support for Small Businesses, Nonprofits and Municipalities ● Vermont Economic Development Authority short-term forgivable loans ($19 million, provides loans of up to $350,000 for businesses that experienced loss during the pandemic) ● Community Recovery and Revitalization Grants ($10 million plus $30 million after July 1, 2022) ● Downtown and Village Tax Credits ($2.45 million) ● Creative economy supports ($9 million)
Nursing and Healthcare ($12.5 million) ● Nursing faculty grants and forgivable loans ● Nurse preceptor grants ● Mental health worker forgivable loans ● Health care apprenticeships and training
Support for Trades ● Work-based learning and training programs ($1.5 million) ● Trades scholarships ($3 million) ● Meat-cutter training ($387,000) ● Vermont Center for Technology experiential learning ($15 million for revolving loan fund) ● Serve.Earn.Learn ($1.8 million for jobs training programs) ● Incarcerated individuals workforce development program ($420,000) ● Correctional officer recruitment and retention ($300,000)
Supports for Workers ● COVID paid family leave ($15.18 million, provides up to 40 hours at $21.25/hour) ● Unemployment insurance benefit (provides $60/week until $8 million is spent)
Accessory On-Farm Businesses The legislature worked to improve the possibilities for Accessory On-Farm Businesses (AOFBs) in an effort to help farmers diversify—and grow their revenue—with products principally produced on their farm. For example, we want to encourage berry growers to make and sell jam as part of their business. As we continue our work on Act 250 reform, we've requested a report to analyze the current land-use planning requirements for farms with AOFBs — businesses that support a vibrant, resilient, and equitable food system (learn more here).
Promoting Economic Opportunity for BIPOC Businesses This biennium, legislators began addressing racial wealth disparities and the historical impacts of economic exploitation and exclusion from economic opportunity. The legislature engaged BIPOC business and community leaders across the state to inform and develop legislation to create a BIPOC business development project. This effort resulted in the legislature providing $150,000 for a process to evaluate the needs of BIPOC businesses and provide recommendations on how best to assist BIPOC- and women-owned businesses. The Vermont Partnership for Fairness and Diversity was awarded a contract to convene stakeholders for fact-finding and to help develop the recommendations. That process is ongoing, with recommendations expected by November 2022. Efforts are also under way at the Secretary of State's office to set up a small business portal that includes data on Minority- and Women-Owned Business Enterprises as well as Disadvantaged Business Enterprises.
This year, S.11 appropriated $250,000 from the American Rescue Plan Act – Coronavirus State Fiscal Recovery Funds to the Agency of Commerce and Community Development to provide statewide delivery of business coaching and other forms of training to BIPOC business owners. The funding will also support networking, career fairs, workshops, paid internships, career guidance, and other support for BIPOC workers across the State.
FOCUS ON WOMEN, CHILDREN AND FAMILIES
Reproductive Liberty as a Constitutional Right For many decades, Vermont has recognized reproductive choices as deeply personal, fundamental rights that should be free from governmental or political restrictions. Reproductive choices affect all Vermonters in their freedom to become a parent, to use contraceptive birth control, or to choose or refuse sterilization.
This session, after a four-year, deliberate and inclusive legislative process, the House passed Proposal 5 by an overwhelming majority. If ratified by the voters in November, Prop 5 will enshrine reproductive liberty into our state's constitution, ensuring that these rights are preserved for future generations.
While the U.S. Supreme Court is poised to overturn federal protections provided by Roe vs. Wade, and many states across the country are slipping backwards in their laws regarding reproductive liberty, Vermonters will now be able to vote these values into our state Constitution this November, an historic opportunity at a critical time for our nation.
Reliable and Affordable Child Care Vermonters pay a greater percentage of their income on child care than any other state. Vermont parents of toddlers spend 25.3 percent of their annual income on child care. On average, that's one quarter of every paycheck and even for those who can afford it, finding quality childcare is tough. To meet that demand, we need to increase our capacity to provide child care for an additional 8,000 children.
The Vermont Legislature is listening. Over the past four years, we have been working to help in many different ways.
• The Child Care Financial Assistance Program will help more families by expanding its eligibility requirements from 300 to 350% of the federal poverty level, and by increasing rates for centers from the 50th to the 75th percentile • All families below 150% of the poverty level will qualify for $0 co-pays • Individual per-child co-pays will transition to one family co-pay • Information technology will be updated so it's possible to pay benefits to child care centers based on enrollment, not attendance • Early educators will have access to a loan repayment program ($700,000) • Early educators will have access to a scholarship program and expanded TEACH programs ($1.8 million) • A systems analysis study is in process with a report due July 15, 2022 • A marketing analysis study is in process with a report due December 15, 2022. This study looks into the following goals: o No family pays more than 10% of income o Early childhood educators should be paid the same amount as their colleagues with similar credentials in K–3 public schools • A study on an enrollment vs. an attendance model is on target to begin on July 1, 2022 • $27 million of Vermont's ARPA funds will be invested in child care stabilization • $6 million will be added for retention bonuses in the FY22 budget adjustment • $1 million will be added for retention bonuses in the FY23 budget • $800,000 a year for capacity grants (creating more spots for children in child care centers with a focus on infants to three-year-olds) • Relaxed certification rules during COVID due to an extreme workforce shortage, especially for families needing early care (7 to 9 a.m.) and late care (4 to 6 p.m.) • $500,000 for Children's Integrated Services. This would increase the provider reimbursement rates from $600 to $650 • $100,000 of one-time funds to support a pre-apprenticeship program in early childhood education that will allow high-school students enrolled in CTE programs to access paid internships within child care programs, as well as relevant training and coursework • $125,000 grants to students to pursue early childhood education careers • $6,000,000 for child care from unallocated reserves if we have at least $86 million in undesignated funds at the end of FY22 (C102, sec.53)
Tax Relief for Vermont Parents, Veterans and Retirees Building on the success of the federal Child Tax Credit, H.510 creates a new Vermont Child Tax Credit. It will give $1,000 per year to parents and guardians for every qualifying child five years of age or younger. The bill increases the Child and Dependent Care Credit (CDCC) to 72 percent of federal CDCC, and increases our Vermont Earned Income Tax Credit to 38% of federal Earned Income Tax Credit (EITC) — making us the highest state EITC in the country.
The bill creates a deduction for all interest paid on student loans, increases income thresholds for the existing Social Security benefits exclusion by $5,000, and creates new exclusions for $10,000 of retirement income from military, Civil Service Retirement System, or other states' noncontributory retirement systems. It increases funding for three programs: an existing housing tax credit to increase access to manufactured home purchases and replacement; the Aid for the Aged, Blind, and Disabled program; and the Child Care Worker Retention Grant Program.
This bill is a big win for Vermont families. We're creating a clear and significant message in our tax code that Vermont is a place that supports families and workers. We understand what it means to parent, to carry student loan debt, and to care for aging parents.
Overall, H.510 will provide more than $41 million in tax relief affecting at least 70,000 Vermonters, and likely more. It is an historic and significant bill.
Updating the Reach-Up Program The COVID-19 pandemic has caused major disruptions for childhood development and families' well-being. This session the legislature passed several initiatives that reflect our continued commitment to help Vermont's families recover and thrive.
By updating our Reach-Up Program, we made progress to help low-income families set and achieve goals that lead to greater stability and economic mobility. By reforming our Parent Child Center Network, we've enabled centers to more effectively provide services such as child care, parent support groups, and referrals to community resources. And by establishing the Office of Child Youth and Family Advocate, we've created a new and overarching resource supporting at-risk children, youth and families, while making future recommendations to the legislature for best policy practices.
Together, these measures will help ensure that all of Vermont's children and families have access to services that meet their basic needs with dignity and respect, and are able to reach their full potential.
Providing Essential Services for Vermonters In the Vermont House of Representatives, we believe that all people deserve to have their basic needs met, regardless of their age, disability status, health condition or identity. We also know that some of our neighbors have special needs that require access to specific services. By continuing to pay attention to the systems that support all Vermonters, we are working towards making a state where nobody is at risk of falling through the cracks.
This year, we passed bills to support individuals and families with developmental disabilities, Alzheimer's disease, and substance use disorder. H.720 seeks to increase the options of places where people with developmental disabilities can live while still receiving quality services. S.206 provides education and coordination for families and caregivers of people with Alzheimer's disease. Finally, H.711 and H.728 create a path forward to expand availability of life-saving services for people at risk of fatal overdose from opioids. While a lot of progress was made this year, there is still much more work to do.
Child, Youth and Family Advocate The new Office of the Child, Youth and Family Advocate will advocate for the welfare of children and youth involved in the child protection and juvenile justice systems.
Much time and research went into creating the proper authority and scope of services for this office. This independent office will report to an Oversight Commission and be guided by an Advisory Council. With a focus on racial and social equity, the Advocate will work in collaboration to strengthen services for children, youth and families.
The Advocate will provide much-needed systemic oversight of the Department of Children and Families (DCF) and will monitor the implementation of laws and policies. The Advocate will be available to the public, as it will review and respond to complaints concerning children and youth in state care and provide information about rights and responsibilities to those who access their services. In addition, the Advocate will use the information it discovers to provide recommendations to DCF and to the legislature.
Vermont will join the majority of other states that have this position and will have the opportunity to learn from the national network of Advocates who guide each other about best practices and focus areas.
SUPPORT FOR OUR TEACHERS AND OUR SCHOOLS
Putting Our Public Pensions System on a Sustainable Path The General Assembly has put the state's public pension system on a path towards long-term sustainability, so that teachers, troopers, and all state employees can rely on a well-funded, solvent system when they retire. Legislators balanced commitments — one to State employees and teachers and another to Vermont taxpayers — in the face of a $5.6 billion unfunded liability that would have continued to grow without action.
S.286 is the result of 15 months of hard work to engage Vermonters in a shared and sustainable solution. The State of Vermont will contribute $200 million in one-time surplus revenues. Meanwhile, teachers and state employees will increase and restructure their contributions — higher-income workers will pay a higher percentage of their income — and accept a small adjustment to cost-of-living increases. These savings will be re-invested into the pension system to retire the debt sooner.
In all, these changes will eliminate $2 billion of unfunded liability and ensure retirement security and healthcare certainty for retired teachers and state employees for years to come. The law is the culmination of months of hard work and negotiation of the Pension Task Force, made up of legislators, public employees, and an administration employee. Through that collaboration, we won unequivocal tripartisan support and got a deal across the finish line. The Governor vetoed the bill, but the House and Senate voted unanimously to override the veto. The resounding override sends a clear and strong signal of support for our hard-working state employees. This is the first time in state history that both chambers have voted unanimously to override a veto. S.286 gives our teachers and state employees peace of mind: they will have their hard-earned pension when they retire.
Education Funding and Correcting Pupil Weights
One fundamental value of Vermont's education system is our collective responsibility to ensure equitable outcomes for all students in every corner of the state. This year, we took significant steps to deliver on the promise of equity for all students, including those who are English learners.
The legislature updated Vermont's education funding formula to meet our constitutional commitment to public education, while maintaining our state's longstanding tradition of local control over school budgets.
Vermont's education funding system uses "weights," or numeric factors that account for the varying costs of educating different categories of students. The weights acknowledge that it is more expensive to educate middle and high school students, children who are living in poverty, children in rural areas, and children for whom English is not their primary language. These weights impact taxing capacity across school districts.
S. 287 incorporates updated weights from a UVM/Rutgers study into the education funding formula, providing greater taxing capacity for many districts. The bill also creates a glide path of tax-rate protection for districts that will experience reduced taxing capacity. The new weights will be implemented in FY25, giving districts time to plan and prepare.
In Vermont, we have a shared commitment to education: no matter where we live, we're all responsible for educating all of our students. By updating our funding system through S.287, we are taking another important step toward making that vision a reality.
Helping Schools Fill Teaching Positions H.572 will help Vermont schools struggling to hire and retain teachers. The bill makes it financially feasible for retired educators to return to work for up to a year without giving up their pension benefits. The teacher must hold an active license, and both teacher and employer must continue to make contributions to the pension and other post-retirement benefits, such as health care. The workforce shortage in our schools is a long-standing problem that has been exacerbated by the COVID-19 pandemic. This bill supports our schools by giving them an option to put an experienced educator in a classroom. Our students will benefit from the stability of an experienced teacher when their classroom teacher is out on leave.
Mental Health Support for Educators and Students The COVID-19 pandemic has taken a tremendous toll on the social, emotional and mental health of Vermont's school communities. S.197 taps into $3 million in federal stimulus funds to establish a two-year program that will offer COVID-19 recovery support for teachers and staff ($500,000) and provide grants to expand mental health and well-being services for children and youth ($2.5 million).
The student-focused grants can be used for a wide variety of programs, like expanding school-based counseling, after-school or summer programs. Applicants must work closely with teachers, school counselors and staff to provide one-on-one or small-group sessions to address important topics like resilience, substance abuse, suicide prevention, social isolation and anxiety. The grants will target geographically diverse and underserved regions of Vermont.
Free Universal Breakfast and Lunch for the 2022–2023 School Year Vermont made huge strides in combating food insecurity during the pandemic. With federal support, public schools provided free breakfast and lunch for all students during the last two school years. But this federal funding ends in June. To maintain this critical program, the legislature passed S.100, a bill to continue universal school meals through the 2022–2023 school year with $29 million from the Education Fund surplus.
S.100 reduces hunger and erases stigma in our schools by ensuring that breakfast and a hot, nutritious lunch is available to all students. Under the old pre-pandemic program, not all food-insecure students qualified for free or reduced-price school lunch: the income limit was set very low, at $32,227 for a single parent with one child. During the upcoming school year, we'll collect solid data around the cost of universal school meals and study the potential long-term funding opportunities for this program.
School Construction Updates This year the legislature continued its statewide work on school facilities. Act 72 of 2021 called for an inventory and conditions assessment of Vermont's school buildings and a report back to the legislature. The inventory covered 305 schools and made initial assessments on safety, security, technology and systems (such as roofing, HVAC, plumbing, fire suppression and prevention). Additional assessment work is ongoing. Act 72 also required schools to conduct radon testing, with a completion deadline of 2025.
Following up on language in the FY22 budget requiring testing indoor air for PCBs, this year the legislature reserved $22 million for PCB testing, assessment and remediation in our schools. The long-term goal is to ensure our school buildings are well-maintained, energy-efficient, safe and healthy places that meet the needs of 21st century education and technology.
Act 1: Updating Our Ethnic and Social Equity Standards In Act 1 of 2019, the legislature created a working group to review our educational standards and to recommend updates — or additional standards — to fully recognize the history, contributions and perspectives of various ethnic and social groups. The goals include: promoting critical thinking, increasing cultural competency among Vermont students grades Pre-K to 12, eradicating racial bias and ensuring curriculum is welcoming to all students, and helping students safely explore questions of identity, race equality and racism. As of May 2022, the working group has submitted recommendations on Vermont's Education Quality Standards to the State Board of Education for review, a public process that will take up to eight months. The next step for the working group is to hire a consultant through an RFP process to review the curriculum content standards.
PROTECTING OUR ENVIRONMENT AND TAKING CLIMATE ACTION
Protecting Biodiversity Vermont biodiversity has been declining precipitously in recent decades. The state continues to lose forest cover and the remaining forest is increasingly fragmented. H.606 establishes the goals of conserving 30 percent of the state's land by 2030 and 50 percent by 2050. The Secretary of the Agency of Natural Resources will develop a plan to meet these goals using Vermont Conservation Design (VCD) as a guide.
VCD is a state-created map of the areas of the state that are of highest priority for maintaining ecological integrity. Conservation would be achieved through a combination of private, state and federal land. To further these biodiversity goals, H.697 extends the Use Value (Current Use) Program to include reserve forestland under certain conditions. Reserve forestland is land that's managed for the purpose of attaining old forest values and functions. This extension encourages the management of land for old forests, which currently comprise less than one percent of Vermont's forestland. The protection of old forests is important because they are more complex than young forests and thus harbor greater biodiversity.
Clean Water for Vermont and Vermonters
The legislature continues to support clean water for Vermont and Vermonters. This includes investing in water, sewer and stormwater infrastructure and programs that improve community resilience to climate change impacts, such as flooding.
In total, Vermont received $1.2 billion from the federal American Rescue Plan Act. In the FY 2022 budget, $100 million of that amount was designated for water and sewer investments. In the FY 2023 budget, an additional $104 million is allocated. This includes:
● $31 million for permitting, design and construction support in stormwater retrofit projects related to the three-acre stormwater rule ● $15 million to support design and construction of community-scale water and decentralized wastewater projects, or both, to support underserved designated centers ● $5 million to municipalities, businesses and nonprofits to install or enhance pretreatment processes to address high-strength or toxic wastes ● $10 million to municipalities with small and primarily residential customer bases to upgrade or replace water or wastewater treatment systems at risk of failure ● $20 million to assist municipalities in the design and construction of projects that reduce or eliminate wet weather sewer overflows ● $6.5 million for improving water and wastewater systems at coop-owned and nonprofit mobile home parks ● $15 million to replace failed on-site water and wastewater supplies for Vermonters with low incomes or who are unable to access or afford market rate loans ● $1.5 million to update leaking service lines, old plumbing, and replacing outdated fixtures (sinks, toilets, dishwashers, laundry) with high-efficiency devices
Looking ahead, $355 million additional federal dollars are anticipated for water investments through the Infrastructure Investment and Jobs Act (IIJA). Funds are anticipated mid to late summer: $9.5 million to the Clean Water State Revolving Loan Fund (CWSRF) this year, increasing to $13 million by 2026; and $19 million to the Drinking Water State Revolving Loan Fund (DWSRF) this year, increasing to $26 million by 2026. In each of the five years there will also be $30 million designated for lead service line replacement.
Anticipated for grappling with PFA chemical contaminants is $500,000 this year to the CWSRF, increasing to $1.125 million by 2026, as well as $8 million for five years to the DWSRF. There will also be $8 million per year for five years targeting Lake Champlain water quality projects. This federal IIJA funding is in addition to an ongoing annual Total Maximum Daily Load (TMDL)-related appropriation of $6 million through the EPA/Lake Champlain Basin Program. There are, additionally, millions of dollars of funding anticipated to help clean up 12 Superfund sites and more than 5,000 brownfield properties in Vermont.
In 2022, the Legislature also passed H.466 with strong tri-partisan support. This bill creates a program to track and manage our state's surface water withdrawals. The program ensures that there is adequate surface water, even at times of drought, to meet our water needs and maintain water quality standards now and into the future. A major housing bill, S.226, also contains floodplain protection incentives to reduce the flood damage risks that face our communities.
Mapping the Future of our Forests The forest products sector is a major contributor to Vermont's economy. It provides nearly 14,000 jobs for Vermonters, generates $2.1 billion in annual sales, and supports $30.8 million in economic activity from trail use and tourism. S.11 charges the Commissioner of Forests, Parks and Recreation with creating the Vermont Forest Future Strategic Roadmap to establish a viable future for our forest products industry. The roadmap will be developed with the goals of increasing sustainable economic development and jobs in the forest economy and promoting ways to expand the workforce and strengthen forest product enterprises. Our forestry sector plays a critical role in the management of our woodlands, and we worked hard to ensure that there are resources in place to allow this sector to thrive in Vermont.
Helping Vermonters Switch to Clean Heat The House and Senate passed H.715, the Clean Heat Standard (CHS) to put Vermont on a path to a more affordable, lower-emissions energy future. The CHS is the most significant policy recommended in Vermont's Climate Action Plan, and the most important climate bill passed by the legislature this year.
The CHS would obligate companies selling heating fuel in Vermont to lower greenhouse gas emissions over time. The CHS requirements could be met flexibly by delivering a range of clean heat alternatives — heat pumps, weatherization, advanced wood heating — that reduce fossil fuel consumption, or by displacing some fossil fuel delivery with lower carbon-intensity biofuels. Consumers would continue to have a choice with their heating options and would benefit from more incentives when they choose cleaner heat alternatives.
In early May, the Governor vetoed H.715. In his letter to the General Assembly, he requested that the CHS return to the legislature for final review before its final 2025 approval, and that it include more analysis of CHS costs and impacts. The final bill included these measures.
The climate crisis is a threat to our community and our prosperity and we cannot afford to delay action. We must move forward to help all Vermonters adapt our lives, communities and businesses to the accelerating effects of climate change in a way that leaves no one behind.
Municipal Energy Resilience Program Vermont's municipalities own and maintain approximately 2,000 old buildings that are expensive to heat and have a large carbon footprint. The legislature appropriated $45 million in ARPA funds for the Municipal Energy Resilience Program (as detailed in H.518 and included in the FY23 budget). The program will support communities with technical assistance, design support, and funding to make municipal buildings more energy efficient and to decarbonize the fuels they employ. This program will provide towns with the tools and resources they need to weatherize old buildings and find alternatives to heating while also helping the taxpayers by reducing one of the largest and most volatile line items in many municipal budgets.
Creating a State Environmental Justice Policy S.148 establishes a state environmental justice policy and strengthens public engagement using a citizen-based advisory council and interagency committee. Environmental justice is a lens to ensure equitable sharing of environmental benefits, such as clean air and water. The bill also supports the development of a mapping tool to visualize environmental harm — ranging from contamination and exposure to toxins to unsafe housing, lack of open green space, or vulnerability to flooding — that impacts some of our communities. "Environmental Justice Focus Populations" will be defined based on demographic data that predicts which communities bear a disproportionate degree of environmental burden. Many communities suffer disproportionately from environmental harm, including low-income Vermonters, people with disabilities or limited English proficiency, and Vermonters who are Black, indigenous and people of color. The work supported by this bill will help the state to plan for and target our investments and restoration activities to ensure that no community is left behind. Roughly two dozen states already have environmental justice policies in place.
REFORMING OUR CRIMINAL JUSTICE SYSTEM
Justice Reinvestment Recognition of the need for reform and culture-level change in the criminal justice and corrections systems has been growing for years. "Warehousing" offenders does not help them prepare to reenter society, as most of them will. We are committed to building a criminal justice system that is equitable and rehabilitative, where state employees and the incarcerated Vermonters in their care are safe and treated with dignity and respect.
Vermont's three branches of government (executive, judical and legislative) worked closely with the Council of State Governments over the span of two years on Justice Reinvestment II. This work, which balanced public safety with alternatives to incarceration, produced research and a series of legislative recommendations to reduce the number of incarcerated Vermonters. Through these initiatives Vermont is already experiencing significant savings. Justice Reinvestment has provided a data-driven approach to improve public safety while reducing corrections spending by reducing the need for out-of-state beds. Justice Reinvestment savings are then reinvested into systems of support that also decrease crime and reduce recidivism.
Following recommendations from a 2022 Council on State Governments report, the legislature invested the budgetary savings from reduced use of out-of-state incarcerative beds into the following four areas: ● Domestic violence intervention programming ● Data collection and analysis capacity ● Community-based mental health and substance use services ● Housing-related needs for people on or transitioning to community supervision
With this action, $1.1 million was allocated to justice reinvestment initiatives this year. This includes $700,000 in base funding to ensure Vermont has a sustainable foundation to address public safety and reduce recidivism by addressing the needs of justice-involved Vermonters.
Advancing Firearm Safety Measures Some of our most at-risk Vermonters are those fleeing domestic violence. The majority of all homicides in Vermont are domestic violence-related, and almost every one involves a firearm. Act 87 helps address this danger by clarifying that judges can order the relinquishment of firearms in an emergency relief from abuse order to remove guns from emotional, potentially dangerous situations. The law advances other important public safety measures. It removes firearms from other potentially volatile situations—and protects our frontline health care workers—by banning firearms from hospitals. The law also protects Vermonters by extending the amount of time someone needs to wait to purchase a firearm when their criminal background check is delayed.
Identifying Racial Disparities in Vermont's Criminal Justice System We continue to work towards a fairer and more equitable Vermont. But we know that Vermonters of color are much more likely to be stopped by law enforcement than white Vermonters. We also know that black Vermonters make up a disproportionate number of incarcerated persons in our state. To help identify and address the sources of these disparities, we need better data from the State's criminal justice system.
To that end, H.546 creates a Division of Racial Justice Statistics. The new division will collect data on individual interactions with law enforcement, State's Attorneys, Vermont courts, the Department of Corrections, and other entities in order to uncover and remedy systemic racial bias and disparities in our criminal and juvenile justice system. An advisory council has also been created to incorporate the data collected into suggestions for concrete actions the legislature can take as we strive to make our state welcoming to people of all racial and ethnic backgrounds.