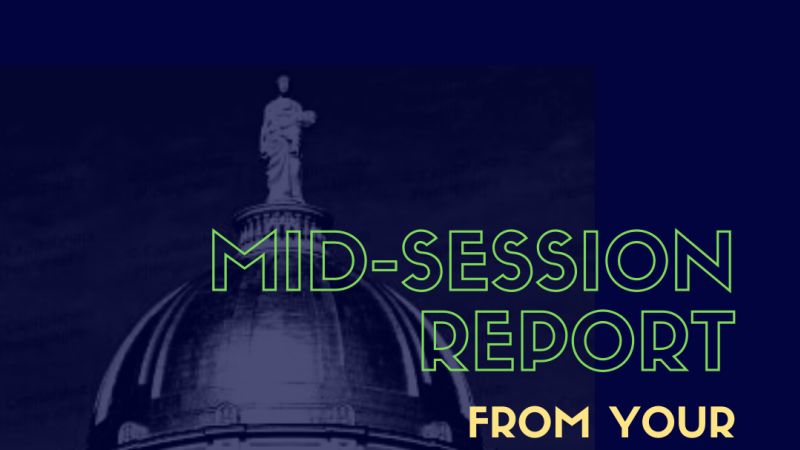 It continues to be an honor serve as the State Representative for the Windham-1 district. Thank you for your trust in me. The 2021-2022 biennium began as no other like it, with legislators working over Zoom maintaining our normal-in person schedule to do the people's work. Our priority this session is on our economic recovery and the health and well-being of our communities, and to build back better.
This blog post provides an update on my work and some of the bills currently under consideration. Please reach out anytime to share your concerns or if you need help, or join me for one of my monthly Coffee with Coffey hours the first Sunday of every month from 3-4pm over Zoom. In the meantime, take good care, look out for your neighbors and stay healthy and safe!
Town meeting is one of my favorite annual events, a forum where everyone is welcome to speak their minds and engage in civic dialogue as we review budgets and respectfully debate the issues with our neighbors. I am very saddened that we are not able to meet in person this year, due to the pandemic. And little did we know at last year's town meeting that less than two weeks later we would enter a state of emergency.
I know how difficult this is as we approach the one-year mark on this emergency. However, we are starting to see some light at the end of the tunnel, with the distribution of vaccines. If we stay smart, and committed to protecting each other, we can reach that light with the least number of lives lost and be well positioned to recover stronger than we came into this crisis.
Our shared priority this session is on our economic recovery and the health and well-being of our communities. In the House we are working to build back better and to address some of the inequities and gaps that this pandemic has laid bare.
My priorities this session have also been informed by the conversations, meetings, emails and conversations that I have had with you, my constituents. I want you to know that I am carrying your voices with me into my work and I will continue to focus on strengthening our rural economy, ensuring access to quality and affordable childcare, creating more affordable housing, improving rural broadband, addressing equity education, protecting our environment, reforming our criminal justice system and taking steps to address climate change and systemic racism.
When we return after the Town Meeting Break, we will have one week until the cross-over (two weeks for the money bills) – the deadline we have to get bills over to the other chamber in order for them to have a chance at passing this session. This Town Meeting edition of my newsletter provides an update on my work and some of the bills currently under consideration as we approach the mid-point of the legislative session.
COVID-19 RESPONSE: ENSURING EQUITABLE RECOVERY
Since the early weeks of the pandemic in 2020, the COVID-related dollars flowing to Vermont from Washington have been substantial. As of early December, approximately $5 billion had come to Vermont, much passing directly to agencies and departments for specified COVID relief purposes. The legislature has worked tirelessly to leave no Vermonter behind.
Before the legislature left for the Town Meeting recess, the House passed H.315, a $80 million COVID-19 Relief and Recovery Aid package that provides critical assistance to working families and businesses struggling due to the pandemic. The package includes funding for:
• One-time stimulus checks for the poorest Vermonters on Reach Up • Grants for small businesses (such as those started or purchased in 2020 or late 2019) that have not received any federal assistance • Added investment in VT Farmers to Families Food Box program • Improving the indoor air quality of school buildings for student safety • New housing creation for homeless Vermonters • Increased data collection to track disparities and improve health equity • Pandemic-related services for New American and immigrant communities • Additional investment in pensions system for state employees and teachers
AMBITIOUS PLAN FOR OUR CHILDCARE SYSTEM
High-quality childcare is an investment in Vermont's future. By increasing access and affordability for Vermont's families, we help parents stay employed and contribute to their local economies. By increasing childcare worker wages, we can support and grow our early educator workforce. By prioritizing the well-being and development of our children, we are giving the next generation of Vermonters a head start to success.
I'm one of the co-sponsors of H.171, an ambitious bill that aims to make high-quality childcare accessible and affordable to all Vermonters by 2025. The reforms offered in this bill are based on feedback from Vermont's parents, providers, employers, and community members.
We know that childcare is essential to keeping our communities strong. Meanwhile, Vermont's childcare system is sorely in need of resources. H.171 is a monumental step towards funding childcare in a way that reflects its true value to our state.
BROADBAND: SUPPORTING RURAL BUILDOUT
Access to high-speed internet is essential to daily life. We use the internet to go to work, attend school, see a doctor, interact with government, and connect with our community and the world. Unfortunately, the promise of modern communications has bypassed many rural communities.
The House has been working on a comprehensive committee bill (H.360) that seeks to accelerate community broadband deployment throughout Vermont. Key elements include funding for pre-construction expenses, expanded grants and loans for building broadband infrastructure in unserved and underserved areas, a new workforce development program, and protections for Vermonters' privacy and unrestricted access to the Internet. This bill would bring over $50 million of new capital to support the construction of community-based fiber assets in the most underserved parts of the state.
The legislation also establishes the Vermont Community Broadband Authority to coordinate and fund broadband buildout, to support Vermont's regional communications union districts (CUDs) and their partners, and to advocate at the federal level for programs and policies that will accelerate the deployment of universal broadband in rural Vermont.
PENSIONS: BRIDGING THE UNFUNDED GAP
State pensions are grabbing lots of headlines recently. Vermont oversees the pension management for three groups: state employees; teachers in pre-K to 12 schools; and municipal workers. The upkeep and viability of these funds is a vital oversight concern for the Legislature. In her January report Treasurer Beth Pearce recommended changes that would significantly reduce the $4.5 billion unfunded pension and other retirement liabilities — for example, increasing employee contributions, or reducing cost-of-living adjustments for future retirees — but it's important to remember that her report is just a starting point. The Speaker of the House is committed to bringing together all stakeholders to craft an equitable solution. Contrary to misinformation that has spread, whatever additional funding or program changes are made will be phased in and won't create a sudden flip of a switch on July 1. The process of determining the best course of action will take time, but we will work toward finding a solution that honors our commitments and is fiscally responsible.
REVITALIZING COMMUNITIES THROUGH PLACEMAKING
I am pleased to be the lead sponsor of H.159, a bill that would create the Better Places Program, a program that supports locally-driven placemaking projects and provides community leaders with resources and tools at a time when our downtowns and villages are ready and eager to rebuild. The House Commerce Committee is recommending $5 million to create the Better Places Program.
This program is the result of a deep collaboration between the arts, community development leaders and Vermont-based funders who have worked together over the last two years to strategically align mission and coordinate resources to quickly fund and launch community-driven placemaking projects with the goal of making positive and enduring change.
This program would provide grants between $5,000 and $20,000 to improve the vitality of downtowns and village centers. Public area beautification, bike baths, use of vacant property and storefronts, enhancing farmers' markets or community gardens, and projects to support downtown performing arts are examples of ways these funds could be used to revitalize town centers. Municipalities, community groups, and nonprofits would be eligible to apply.
TRANSPORTATION MODERNIZATION ACT
I am proud to be among the 70 co-sponsors of The Transportation Modernization Act, a bill that moves climate and equity goals into the Transportation Budget Bill. The bill (H.94) seeks to: ● Save Vermonters money ● Reduce climate pollution ● Expand existing programs like the state electric vehicle (EV) incentive and Mileage Smart. ● Make it easier for low- and moderate-income Vermonters to purchase low- and zero-emissions vehicles that are cheaper to fuel and maintain. ● Continue fare-free transit to eliminate transportation costs for people who might not be able to afford it otherwise. ● Expand the Complete Streets program and improve high-traffic corridors for cyclists and pedestrians.
These costs associated would ideally be funded through the increased federal monies that are coming to Vermont to support transportation.