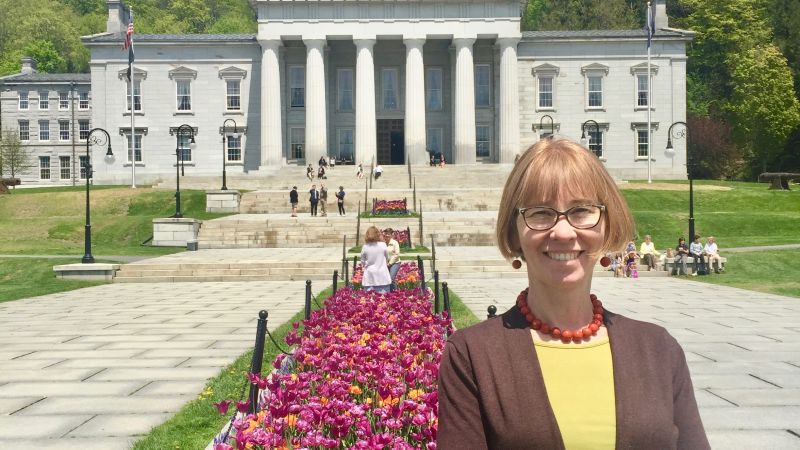 Thank you for keeping in touch throughout Vermont's 2019 legislative session. Over the last 19 weeks I have been immersed in testimony, debate, deliberation and parliamentary procedure. We accomplished a great deal for Vermonters this session to build a stronger, healthier Vermont that works for everyone, not just the select few.
We worked together to build bridges and find our common ground, and as a result accomplished so much this session for Vermonters. We passed a budget without raising new taxes and advanced and a number of bills including some of my priorities to: expand rural broadband; invest in affordable housing and childcare; preserve women's reproductive liberties; create a permanent funding source for clean water projects; address climate change and invest in workforce training and development. I am very proud of our collective work.
During the final weeks of the session, House and Senate leaders were trying to hash out a compromise on paid family leave and the minimum wage. I'm disappointed the legislature couldn't work out a deal on these important issues. But it's not easy—and nor should it be easy—to build consensus among 150 Representatives, 30 Senators and the Governor. In spite of this ending, we accomplished a great deal for Vermonters this session to build a stronger, healthier Vermont.
While we often hear about the issues debated on the floor, so much of our work in the legislature happens in the committee room. I serve on House Corrections and Institutions, where we focus on corrections policy and the capital budget. I believe that budgets and prisons are reflections of our priorities and values, so I have thoroughly enjoyed the work on this committee making fiscal and policy decisions that I believe will help build stronger and healthier communities throughout Vermont. You can read more below.
This blog post is a bit longer than usual as it includes many of the highlights from the session and more details of my work on the House Institutions and Corrections Committee. You can also visit my legislative page at www.legislature.vermont.gov to see the bills I sponsored and how I voted on all the bills that came to the floor.
It has been an honor to represent and serve Guilford and Vernon in the Vermont Assembly this year. In the off-session I will be doing a lot of work with my colleagues around the rural economy and criminal justice and corrections reform. Please be in touch via email SCoffey@leg.state.vt.us if you have any questions or want to discuss your priorities for the legislature when we reconvene in January 2020.
I look forward to hearing from you!
KEY VOTES
Yea: $1.5 million investment in rural broadband expansion (H. 513)
Yea: $10.5 million investment in early child care funding (H. 531)
Yea: $1.59 million for small business support in agriculture, forestry and other working lands enterprises (H.542)
Yea: Preserving reproductive liberties and the right to choose (H.57)
Yea: Dedicated funding source for the Clean Water Fund (S.96)
Yea: State-wide Ban on Single Use Plastic Products (S.113)
Yea: Ethnic Studies bill (H.3) and Fair and Impartial Policing (H.518)
Yea: Investments in weatherization to reduce costs and green house gas emissions (H.63)
Yea: 24-hour waiting period on firearms (S.169)
Yea: Regulating polyflouroalkyl substances (PFAS) in drinking and surface waters (S.49)
Yea: Paid family leave (H.107)
Yea: Increasing the minimum wage to $15/hour by 2026 (S.23)
FIRST YEAR REPORT ON HOUSE CORRECTIONS & INSTITUTIONS
In my first year in the Vermont Legislature, I served on House Corrections and Institutions, which is both a money and a policy committee that focuses on the two-year capital budget and corrections policy. After weeks of testimony from state agencies and advocates we worked hard to make wise investments with a shrinking capital budget of $123million to address infrastructure projects that would have the broadest benefit to Vermonters. We prioritized education with increased support to our state colleges and provided another year of E-911 compliance and safety grants for our schools; public safety with $5.4 million to replace the Williston barracks field station; human services with $4.5 million to replace the Middlesex therapeutic residential facility; clean water with $26 million to fund equipment for improving water quality on farms, loans for construction of municipal storm water, waste water and land conservation and water quality projects to protect our waterways and watersheds; $3.6 in ongoing investments in affordable housing; $3.2 million in community building grants to support agricultural fair projects, cultural facilities, libraries, recreational facilities and historic preservation; and funding to maintain Vermont's state buildings, historic sites, parks and forests.
Our committee spent the second half of the session focusing on the various aspects of Vermont's Department of Corrections. In Vermont, unlike other states, the Department of Corrections is under the Agency of Human Services, rather than the Department of Public Safety. This is a good thing because it puts the humanity at the center of things, enabling better integration of social and health services that are often needed for those incarcerated and their families.
Vermont has been a leader in criminal justice reform. And, despite an opioid epidemic that is raging throughout many of our communities, Vermont's crime and incarceration rates have decreased. Back in 2007 Vermont had the second highest rate of increase in corrections population in the country. At that time 750 Vermonters were in out of state correctional facilities and our prison population was projected to increase from 2,200 to 2,700 by 2018. Today approximately 1800 Vermonters are incarcerated or detained, including 240 who are in out of state facilities.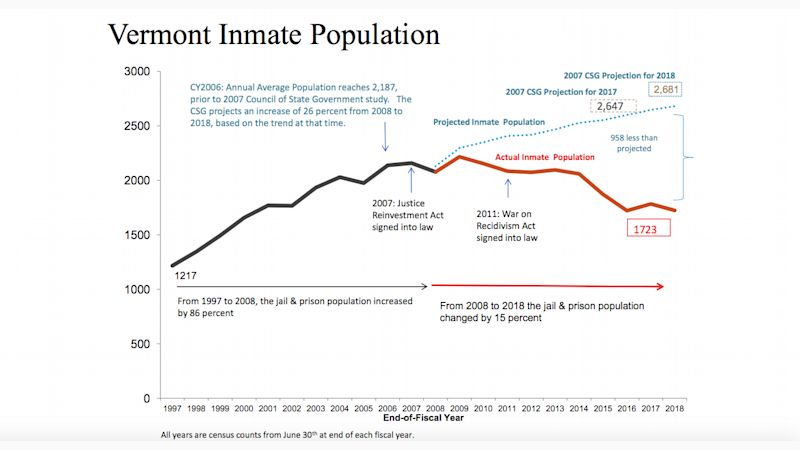 The decrease in incarceration is the result of a series of initiatives that were accomplished through the work with the Council on State Governments (CSG) on Justice Reinvestment back in 2007 and 2008. Justice Reinvestment Act included the creation of community justice centers that use community based restorative practices to divert people from prison and provide supports to enable people to successfully leave prison; an increase in the use of diversion and transitional housing; and an increased access to behavioral health treatment. These reforms were made possible by reinvesting dollars that had been spent on the correctional system into the prevention system.
Yet in spite of the innovations over the last decade, there is still a lot of work to be done. We are seeing an increase in the number of women who are incarcerated and people entering corrections with opioid use disorder and our aging facilities were not designed to deliver the programs that are currently. This winter I visited the Chittenden Correctional Facility that currently houses Vermont's incarcerated women. Designed as a detention center for shorter term stays, the facility, now old and in disrepair, is expensive to operate and the space is inadequate and the women are not able to access many of the programs that are available to the men in our other correctional facilities. As most people in prison today will return to their communities, we need to ensure they have the rehabilitative care, training and resources to be successful in their re-entry.
This session our committee took the first steps by putting money in the capital budget to look at site options to replace Chittenden and to re-engage with the Coucil on State Governments for "Justice Reinvestment II" to do a deep dive to assess our overall criminal justice system, our population trends and program needs to make further reforms. With research and the right sizing of the prison population, we can improve our system and design modern, trauma informed correctional facilities that better meet the needs of those incarcerated, improve conditions for our state workers, reduce recidivism, save taxpayers' dollars, and keep our communities safe. I am excited to work on this next wave of criminal justice and corrections reforms.
As a committee we also worked on a bill that would reinstitute earned good time (S.112) a policy that would be a merit-based system designed to incentivize offenders to meet milestones identified by the Department that prepare offenders for reentry. Earned good time would help with management at facilities, would give hope and motivation to those incarcerated, would not jeopardize public safety and would save tax payers' dollars.
2019 LEGISLATIVE HIGHLIGHTS
This are some of the highlights of the legislation that we passed during the 2019 the session.
A Strong Rural Economy
Rural Broadband: This year the Vermont House passed the boldest, most innovative policy yet to get high-speed internet service to the farthest corners of our state. The bill (H.513) empowers local municipalities to determine the connectivity solutions most appropriate for their communities, and provides financing programs to get local initiatives off the ground. It funds a technical specialist to support local groups. It explores alternatives such as allowing electric utilities to provide internet service using existing infrastructure. It streamlines procedures so providers can build broadband access more quickly and cost-effectively to our most rural communities
Affordable Childcare: Access to affordable child care and quality public education is critical to giving all of Vermont's children a fair shot at a bright future. One of the biggest challenges for working Vermont families continue to be access and affordability. This session, the House passed (H.531) and I supported a $10.5 million investment in child care and early childhood education to help address both of these issues. The Senate made some changes, and in the end, we included $7.4 million to fund these initiatives and made a $2 million increase for Reach Up participants in the FY20 budget.
Hemp: Now that the federal government has given the green light to the commercial and recreational growing of hemp, all that remains is for the FDA to define and regulate the consumable products of this wonder plant. In Vermont, most of the interest in hemp is focused on CBD (cannabidiol), an oil with celebrated healing abilities and many devotees. While CBD can have small amounts of THC in it, it's non-psychoactive and is not to be confused with marijuana. The stakeholders in the hemp industry—farmers, chemists, processors, retailers, investors—all want it to be taxed and regulated. Currently, it's the wild west. The success of Vermont hemp, potentially our next artisan beer or cheese, lies in branding a high-quality product with production accountability. Responding to this need, the House and Senate passed S. 58, a bill to create a tiered fee scale for the industry which will pay for the oversight (in the form of three new hemp experts at the Agency of Ag) in the field, in the lab, and in the marketplace.
Workforce Development: In Vermont, there are workforce needs across every industry, especially in health care, construction, hospitality, transportation, and advanced manufacturing. We want to see more Vermonters employed in meaningful skilled jobs through completing apprenticeships, certificates and associate degrees. Our hope is that our work will help employers hire more employees, and employees to get hired in good paying jobs that meet their skills.The House also passed a comprehensive workforce bill (H.533) that will get more Vermonters, especially those in rural areas, into meaningful skilled jobs through apprenticeships, certificates and associates degrees through our Career and Technical Centers, Community College of Vermont and Vermont Tech.
Healthy Families, Healthy Communities
Protecting Reproductive Rights: For more than 40 years, Vermonters have relied on protections offered by Supreme Court case law to support the value of personal autonomy in reproductive health decisions, and citizens of the Green Mountain State have not chosen to limit or restrict them. Vermonters have long recognized that decisions related to reproductive health care and abortion are deeply personal and private, and are best left to a woman and her doctor. Early in the 2019 session the House passed a bill (H.57) to ensure that women's access to abortion continues to remain unconstrained by law with a strong vote of 106-37; the Senate approved H.57 by a vote of 24-6. The lack of a definitive enumeration of reproductive liberty in Vermont's Constitution, the threats to Roe v. Wade being weakened or overturned by a very conservative U.S. Supreme Court, and the cloud of multi-state efforts to erode reproductive autonomy (with more than 400 restrictions in play across the country) all build a strong case for Proposition 5. H.57 bill and Proposition go hand-in- 5hand to guarantee Vermonters' access to reproductive liberty both in statute and in the constitution.
Regulating Toxic Substances in Drinking and Surface Water: The House passed a bill (S.49) to regulate polyflouroalkyl substances in drinking and surface waters. Perflouroalkyl and ployflouralkyl substances (PFAS) are used in a wide variety of industrial and commercial processes and are found in everyday products such as non-stick cookware, water and stain repellent clothing, stain resistant fabrics, carpets, cosmetics, firefighting foams, and other products that resist grease, water, and oil. These products are bio-accumulative, highly mobile in water, highly resistant to degradation, and toxic to humans in very small concentrations. Manufacturers continue to produce these chemicals and to produce thousands of alternative PFAS that are likely to continue to pose significant health risks. PFAS have been found in more than 400 drinking water wells in Bennington County and in private and public water supplies near the Southern Vermont Airport in Clarendon and in a drinking water supply near Shaftsbury Landfill. The bill would establish an interim Maximum Contaminant Level (MCL) for five PFAS (PFOA, PFOS, PFHxS, PFNA, and PFHpA); set deadlines for the Agency of Natural Resources (ANR) to finalize MCL and surface water standards for these PFAS; and require PFAS testing of public water systems. The bill also establishes a public process for ANR to evaluate regulation of PFAS compounds in drinking water; complete a statewide evaluation of sources of PFAS contamination; and evaluate treatment options for PFAS in landfill leachate
Medical Monitoring: S.37 gives people who've been exposed to toxic chemicals through wrongful conduct a "cause of action" to sue the company for the cost of medical monitoring. The bill sets a high standard of proof and applies only to businesses with 10+ employees in the mining, manufacturing, transportation and utility fields, but provides some relief for Vermonters impacted by toxic contamination.
Tobacco and E-Cigarettes: We took strong steps to protect our kids from the risks of smoking and vaping with a three-part approach by: raising the legal sales age for tobacco products to 21 (S.86), banning the Internet sale of e-cigarettes (H.26) and taxing e-cigs at a much higher rate (H.47).
24 Hour Waiting Period on Handguns: The presence of a firearm dangerously compounds the risk of impulsive acts of violence, especially suicide. Waiting periods create an important cooling off window for gun purchasers to reconsider their intentions, which can lead to a change of heart and a saved life. In addition, waiting periods provide additional time for the completion of a thorough background check. S.169 would establish a 24-hour waiting period for the purchase of handguns. Many suicide attempts occur with little planning during a short-term crisis and that those who attempt suicide impulsively are more likely to choose a violent method. In addition to helping prevent suicides, this waiting period may also help prevent homicides. Firearms are the most frequently-used weapons in domestic homicides and that over half of all homicides in Vermont are domestic violence-related. A cooling off period can help prevent impulsive violence in domestic disputes. S.169 also eases restrictions on the transfer and use of large capacity magazines. Last year, the legislature passed Act 94, which placed restrictions on high-capacity magazines. The law, however, allowed large capacity magazines to be transported into Vermont for use in shooting competitions. But under current law, that authority will sunset in June of this year. S.169 would allow the continuation of the transport of these devices for organized shooting competitions. Without the provisions in S.169, such shooting competitions in Vermont would effectively come to an end.
Strong Schools, Strong Future
Act 46 Mergers and Delays: Over the last three years Act 46 has taken up much energy and caused some division in our communities and tension with our neighbors. At the beginning of the session, I joined a tri-partisan effort that proposed legislation (H.39) to extend the deadline on forced school district mergers. I believed that we needed to press pause on the process while the courts decide on the lawsuits that were filed this winter challenging the decisions by the Board of Education and aspects of Act 46. This bill got stuck in a joint conference committee while the courts made preliminary decisions not to delay. The good news is that our communities have risen above the divisions, and are now productively working together to find a way forward with the merger. While we work through this transition, I am committed to working with our local school boards and our communities to find innovative, cost-effective models that will allow our small schools to remain open and flexible so that they can be the centers we need to build strong and vibrant communities.
Ethnic Studies (H.3): With the goal of breaking down structural racism to build a truly just and equitable society, and ensuring that people of all race and genders who live in, work in, and visit Vermont should feel welcome and safe, one of the first proposals the House Education Committee took up this year was the ethnic studies bill (H.3). The bill passed both the House and Senate by unanimous roll-call votes in February and was signed into law as Act 1 on March 29th. The law aims to identify structural racism, reduce bias, and build a culture of equity in Vermont schools by teaching students the history of all of us, including ethnic and social groups that historically have been marginalized, harassed, discriminated against, or persecuted.
Lead in Schools and Childcare Centers: Lead is a potent neurotoxin that has a harmful, irreversible impact on kids' developing brains. S.40 requires Vermont's schools and childcare facilities to test for lead in their drinking water and provides funding to replace any taps that exceed the action level.
Protecting our Environment
Clean Water: After several years of wrangling, the legislature put together a long-term plan in S.96 to provide dedicated, ongoing funding to clean up Vermont's lakes, rivers and streams. From all sources, including federal funds, the state will spend almost $50 million in FY20 on clean-water initiatives. And S.49 will ensure that all public water supplies will be tested (and treated, if necessary) for harmful PFAS contamination.
Climate Action: In Vermont., we have not been reaching our targets to reduce greenhouse gas emissions. We know that heating our homes and driving our cars are two of major drivers of greenhouse gas emissions. This year we took important steps on climate action by investing over $160 million in energy efficiency and weatherization (H.63), public transportation, financial assistance for low income Vermonters to upgrade from a gas guzzler to a fuel-efficient car and buy or lease an electric vehicle. In S.30, we also approved a plan to phase out hydroflourocarbons, a class of greenhouse gases that are 1,000 times more potent than carbon dioxide.
Plastic Bag Ban: S.113 prohibits grocery stores and retailers from providing single-use plastic carryout bags at the checkout register. Plastic stir sticks and styrofoam food and beverage containers will also be banned, and plastic straws provided only upon request. The bill aims to help businesses by creating one consistent state-wide program, rather than having numerous municipal-based initiatives acress the state. Stores can sell large paper bags for 10 cents. This bill takes direct aim at throwaway plastics, which do not biodegrade and can last for hundreds of years in landfills or as pollution in our landscapes and waterways. Overtime, his will save all Vermonters money by deferring the need to build additional landfill capacity in the future.
Criminal Justice and Corrections
Earned Good Time: My committee worked on a bill that would reinstitute earned good time (S.112). The bill would create a policy that would be a merit-based system designed to incentivize offenders to meet milestones identified by the Department that prepare offenders for reentry. Earned good time would help with management at facilities, would give hope and motivation to those incarcerated, would not jeopardize public safety and would save tax payers' dollars. The policy will be further developed with a number of key stakeholders and presented to the legislature in 2020 and then promulgated through the rules process with the intention to implement it by 2021.
Statute of Limitation Reform: In the case of many of our most horrendous crimes it can take years until the victim is ready to come forward or new scientific techniques can give law enforcement the information they need to bring charges. But many crimes, even serious ones such as manslaughter or sexual abuse of a child, currently have statues of limitation, allowing offenders to avoid punishment by "beating the clock." H.330 will eliminate the six-year statute of limitations related to childhood sexual abuse. H.511 removes the criminal statute of limitations for manslaughter and sexual exploitation of a minor and extends the limits for several other violent crimes beyond their current standard. Together, these laws give victims greater opportunity to seek justice, better recognizing the complex nature of these specific crimes and giving victims and their families more tools to achieve the justice they deserve.
That's it - thanks for reading this far!
It's an honor to be serving in the Vermont Assembly. Please be in touch with any questions or to talk about your priorities for 2020.
best wishes for a happy and healthy summer!