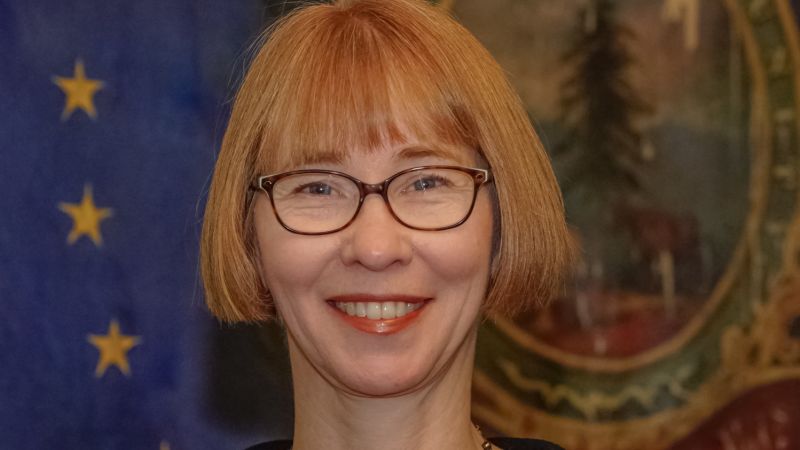 It is an honor to represent Guilford and Vernon in our citizen legislature in the Vermont House of Representatives. I have been commuting to Montpelier for eight weeks now, and every day as I approach the State House I am greeted by Ceres, the goddess of agriculture atop the golden dome. Ceres reminds me of who I am serving and of the importance of Vermont's agricultural heritage. I am committed to working to build bridges, finding common ground and working together to find solutions to ensure that all Vermonters have opportunities and equal access to a bright future.
My priorities include strengthening Vermont's rural economy and working on policies that promote innovation in public education, affordable childcare, and strategic investments in technology to bring our rural communities up to 21st century speed. I believe that such investments will both support our students, maintain property values, and attract families, workers, and small businesses to our state.
This report is to let you know some of the issues that I am working on with my colleagues during the 2019 session. Your feedback is critical to the work I do in Montpelier. Thank you for making your voice heard and for participating in making our communities great places to work and live.
STRENGTHENING OUR LOCAL ECONOMY
We want to create an economy that works for all Vermonters, not just a select few. We want an economy where our workers can find excellent paying jobs and a secure future. Vermont is experiencing a regional trend where many members of our workforce are aging. To keep up with expected retirements and growth in our economy, Vermont will need 10,000 new workers each year to meet the needs of businesses. This employment gap creates opportunities for Vermonters, as well as job prospects for those who are considering a move to Vermont.
In Vermont, there are workforce needs across every industry. The most pressing needs are in the sectors of health care, construction, hospitality, transportation, and advanced manufacturing. The House is focusing its work on getting more Vermonters employed in meaningful skilled jobs through apprenticeships, certificates and associate degrees. Vermont has well established programs at our Career and Technical Centers, the Community College of Vermont, and Vermont Tech. In the House we are working on strategies to attract more students to these programs, especially in rural areas. We are looking to expand programs for adult students and provide more opportunities in the evenings and weekends to access education. By expanding training in all sectors of our population, we can solve our workforce shortage and provide good paying, quality jobs to all Vermonters.
EDUCATION AND CHILDCARE
Over the last three years Act 46 has taken up much energy and caused some division in our communities and tension with our neighbors. At the beginning of the session, I joined a tri-partisan effort that proposed legislation to extend the deadline on forced school district mergers. I believed that we needed to press pause on the process while the courts decide on the lawsuits that were filed this winter challenging the decisions by the Board of Education and aspects of Act 46. This bill is now in the Senate. While we work through this transition, I am committed to working with our local school boards and our communities to find innovative, cost-effective models that will allow our small schools to remain open and flexible so that they can be the centers we need to build strong and vibrant communities.
Access to affordable and quality child care in our communities is critical to giving all of Vermont's children a fair shot at a bright future. The biggest challenges for Vermont families continue to be access and affordability, though it's important to note that the quality of childcare programs is on the rise with more providers participating in the STARS program, the state's quality recognition system. Businesses are also struggling to find early learning professionals to replace retired workers in the midst of a tight labor market. In the House, we are looking at models to address access and affordability while developing a workforce and providing a living wage for the child care workers who care for our children.
IMPROVING CONNECTIVITY
Affordable access to broadband is essential to economic development, education, public safety, and civic engagement in Vermont, however existing internet service providers are not providing adequate service to many of our rural areas. Today 27% of Vermonters lack access to modern internet speeds of 25 Mbps, and 5% lack even basic service. This year, the House Committee on Energy and Technology has developed a broadband connectivity bill that will empower and support communities to reach the last mile of connectivity by investing in programs and personnel that provide underserved communities with resources and technical assistance to find solutions for broadband buildout that best suit their needs.
BUILDING COMMUNITIES GRANT PROGRAMS
We want a Vermont where our families and communities can thrive and where opportunities are accessible to everyone. I serve on the House Corrections and Institutions Committee where we have been taking testimony from the various agencies who run the five Building Communities Grant Programs – programs that were established and funded by the Vermont General Assembly to help communities preserve the state's historic buildings, improve ADA accessibility, and address fire safety in cultural, recreational, and educational facilities. These grants go to municipalities, schools and nonprofits. We heard many success stories about how these grants leverage additional investment and build community and economic vitality in our communities. More info. at https://bgs.vermont.gov/commissioner/building-communities-grants
STAY IN TOUCH
If you have questions or concerns, or if you would like more information please do not hesitate to contact me. During the legislative session I am up in Montpelier Tuesdays through Fridays, and I can be reached by e-mail or by calling the State House toll free: 1-800-322-5616. In January and February, I hosted "Coffee with Coffey" hours in both Guilford and Vernon, and we've had terrific attendance and discussions. They have been a great way for me to hear your concerns and for neighbors to connect with each other and will resume in April.
It's an honor to serve as your State Representative. Thank you for your support.